Late this afternoon, SC Schools received notification of PA 102-0522, which is the new Comprehensive Sex Education Standards legislation being discussed across Illinois. The district has no intention of changing the way sex ed. has been incorporated into the Health curriculum for as long as anyone can remember. SC 401 does not have a comprehensive Sex Ed program and has no intention of providing such. We will simply opt out of the new sex ed standards. Parents do not need to provide any kind of opt out form since we have done this for all students. Hope this helps put concerns at ease. Kerry Herdes Supt. Of Schools South Central CUSD 401

SCMS 6th Grade Orientation / 6th-8th Grade Open House! Wednesday, August, 24th! 6th Grade Orientation 5:15-6:00pm 6th-8th Grade OpenHouse 6:00-7:00pm Hope to see you there!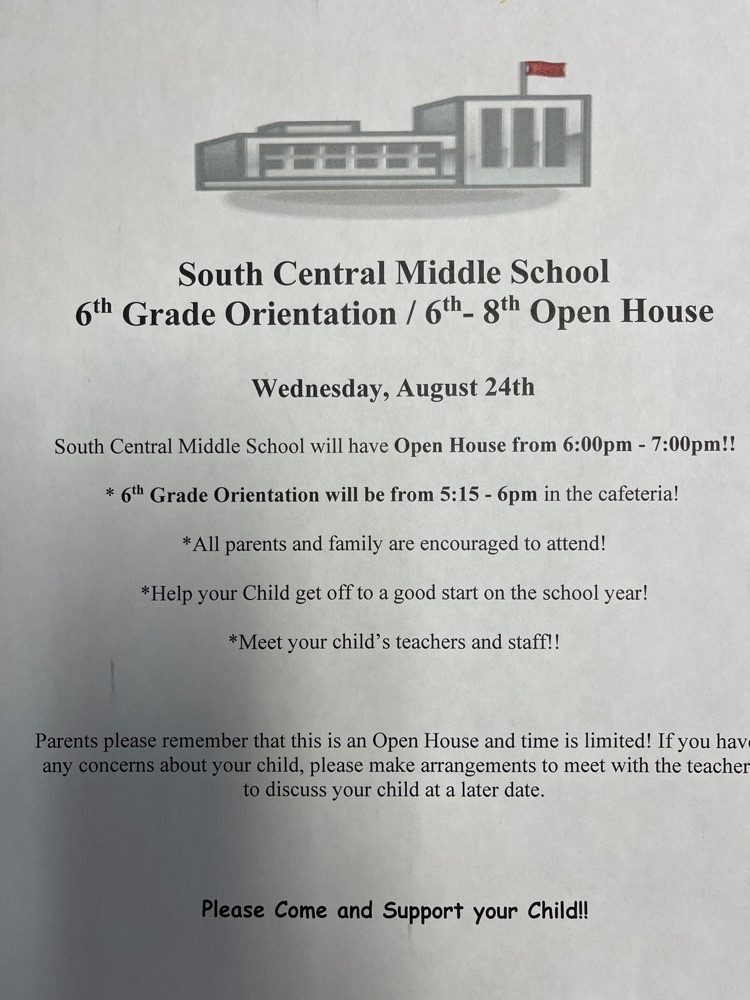 ​ELEMENTARY STUDENTS & PARENTS! If you chose to participate in our Summer Reading Challenge and read 15 books this summer and completed your Summer Reading Log, please return it to school to your new teacher on Thursday, Aug. 18 when you come to meet your teacher & bring your supplies or you can bring it on Friday morning, Aug. 19. All Summer Reading Logs must be turned in by 10:00 a.m. Friday, Aug. 19 to be recognized at the "Back-to-School Kick-Off Assembly!!!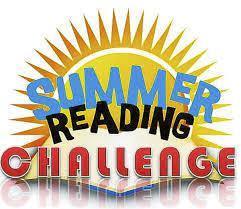 South Central High School will be offering tours of the high school for any new students and incoming freshman on the following days: 8/10 1:30-3 pm 8/11 12:30-2 pm 8/15 4-6 pm Please call the office with any questions! 618-245-2222

Middle school softball at Dieterich today has been moved up to a 4pm start to avoid potential storms. Bus time is now 2:30pm from the middle school.

SCHS students that did not make it to registration can come in next week Monday Aug. 8th thru Friday August 12th from 8:30 to 12:00 and get registered for the 2022-2023 school year.

SCMS softball game for today has been cancelled. No practice today. Practice tomorrow 3-4:30pm

The 2021/2022 SCHS Yearbooks are in. If you ordered one you can stop by the high school office next week on Monday 8/8 thru Friday 8/12 between 8:30 am and 12:00 pm and pick it up.

middle school softball practice is in the MS gym today, not at the field. Thanks

This summer not only have we been changing our website, we have also been changing our student management and grading program! We are very excited about these new and improved systems! While changing the information over, YOU WILL NOT BE RECEIVING ANY TEXT OR AUTOMATED MESSAGES FROM THE SCHOOL UNTIL AFTER REGISTRATION. We will be updating all numbers and information at registration and then it will be uploaded to our messaging system. YOU WILL NEED TO CHECK OUR NEW DISTRICT HOMEPAGE AND FACEBOOK FOR ALL UPDATED UNTIL WE ARE ABLE TO SEND OUT MESSAGES. Thank you for your understanding and support while we make these transitions!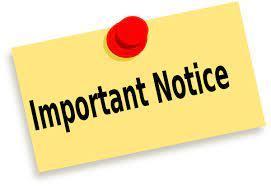 Since the website updates our schoolreach name/number database is not working. Please watch our live feed on the webpage or Facebook page. Thanks

middle school softball practice today will be in the middle school gym 3-5pm? Thanks.

Our district website has been updated and has a NEW look! Please be sure and check out our new District Homepage! All registration forms, information, and supply lists are conveniently posted in easy to access buttons on the District Homepage! The District Homepage and each school building links will continue to be updated and improved throughout the upcoming school year! Please continue to check back regularly for new updates and information!

South Central sports info for all fall sports. HS Baseball(Lions Field) 1st Practice Monday, August 8th 5pm for any freshman or any new player 6pm for any returning player HS Volleyball(HS Gym) 1st Practice Monday, August 8th 3-3:30pm Tryout Info(Parents Welcome) 3:30-6:00pm Skills Evaluation/Tryouts 6-6:30pm Results from tryouts Parent Meeting TBD MS Softball(Webster Park) Tryouts Monday, July 25th 3-5pm. Parent meeting at 5pm that evening MS Baseball(Farina Park) Optional hitting on July 12, 14, 19, 21, 25, 26, 27, and 28. All dates 5-7pm. Tryouts begin Monday, August 1st 5-7pm. Parent meeting at 7pm that evening All athletes trying out will need an up to date physical and proof of insurance. Please bring to your first practice to give to your coach. Handbook forms will need to be filled out and activity fee paid before the first game.

South Central School District #401 will host centralized registration for Pre-Kindergarten and Early Childhood Education students as well as kindergarten to 12th -grade students. The event will take place from 11 a.m. to 7 p.m. on Wednesday, August 3, and from 9 a.m. to noon on Thursday, August 4, at South Central Middle School, 503 S. Madison St. in Kinmundy. The first day of student attendance is set for Thursday, August 18, with 1:00 p.m. dismissal. The first full day of school will be held Friday, August 19, with 3:00 p.m. dismissal.

South Central Schools is accepting resumes for District Band Director.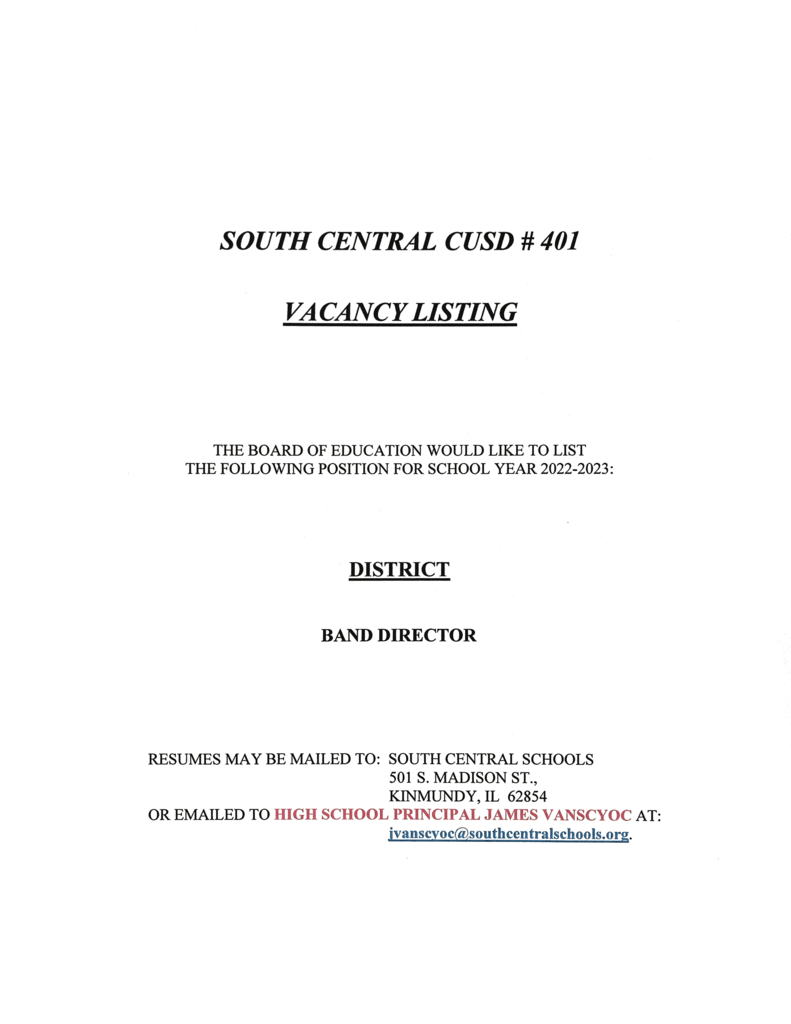 Volleyball Camp Information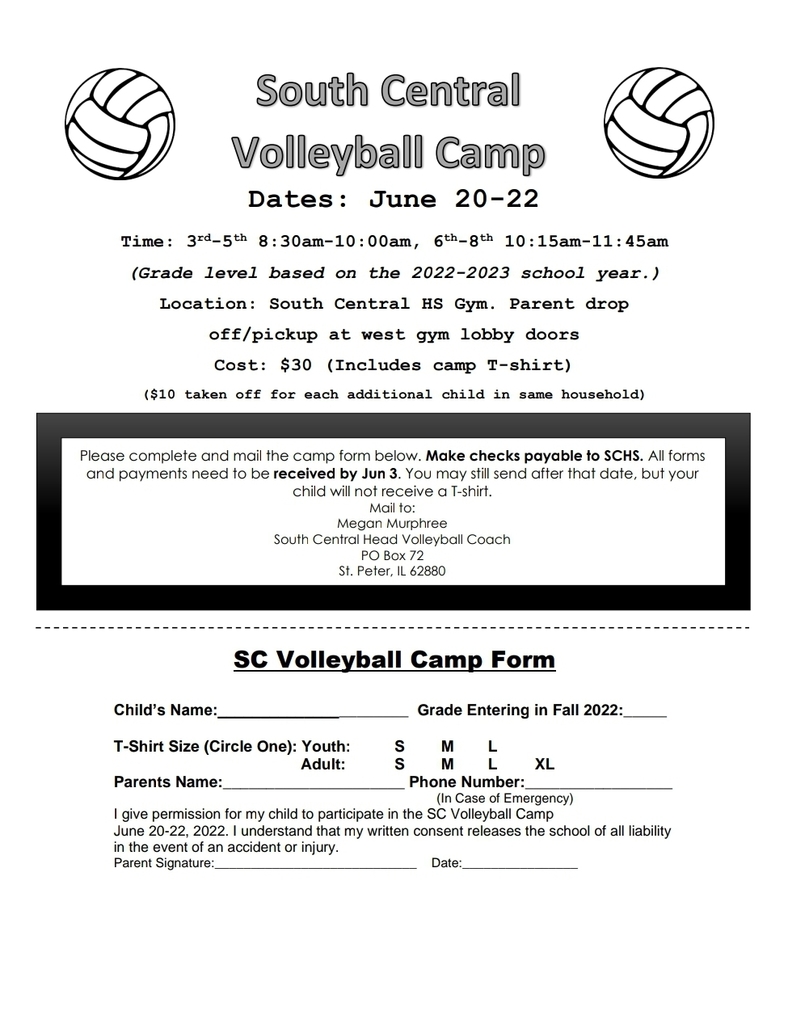 Reminder: SCHS cheer tryouts tomorrow night 5/25 from 6:00 pm to 8:00 pm at the high school gym.

Cougar baseball at North Clay today will be live streamed on Wabash Catch TV.